The History of Villa Mondello
The history of Villa Mondello begins in 1905, it is now over a hundred years that this house sees time flow.
Villa Mondello since 1905
To build it were two English gentlemen, at the time Borgo alla Collina in Castel San Niccolò was a famous Tuscan tourist resort in the Casentino, frequented mostly by British people who love the Tuscan landscape, preferred our valley more authentic and genuine to others who had already then a more touristy footprint. Then there were the years of the war and in 1922 Villa Mondello was bought out of love by the Mondello family, from whom obviously the house inherited the name.
Castel San Niccolò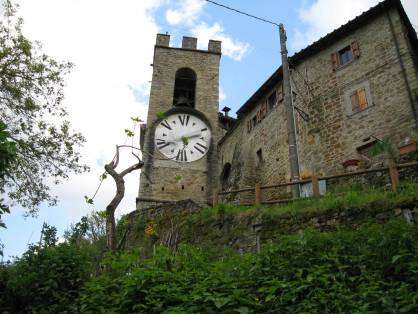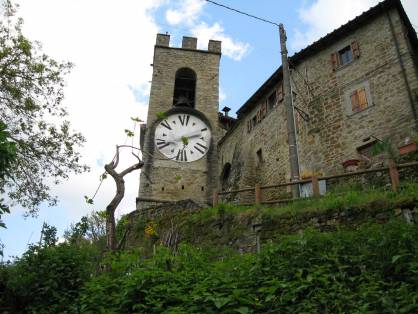 It was bought out of love because Mr. Mondello, owner of trade, had a great passion for poetry, called himself an "amateur poet", and often visited the tomb of Cristoforo Landino, great humanist and commentator of Dante's Comedy.
He gave the villa some of his Sicilian taste: rich, colorful, he made each room paint with a different, evocative color, taken from the poems he knew so well. He had so much work with the people of the time and was very much loved, even today someone who was a boy at the time of the gentlemen Mondello remembers that they were taken in a carriage to the station, and that when they arrived there was always waiting for the band, the whole country, parish priest and mayor included: a party for everyone!
Living Room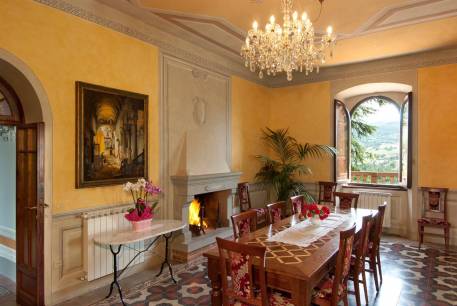 How did it come to us? By chance. When I was little, we went with my mother to the fair that takes place every year in Borgo on the first of August, and when she stopped in those exhausting talks that bore me so much, I leaned out of the wall to see the park. It fascinated me so much and I would have also dreamed of seeing the house one day, but like all things when they pass, then you do not think about it anymore. I spoke before luck, it happened one day, in 2005, that my parents went to see this villa that the Venturini, the third owners of Villa Mondello, sold.
They had to be just a supervision on behalf of a friend, but the fall in love was sudden and total that then decided to start this "crazy flight" with Villa Mondello.
Since then there have been many embellishments and discoveries, discovered because when we bought the beautiful frescoes were all covered and we did not even know of their existence, it was a game for me and my mother to go from room to room to remove a some paint to find out what color there was!
And the embellishments we have made have been many: Meridiana, the wonderful Art Nouveau pergola that incorporates the interior of the house, the panoramic terrace-veranda, perfect for dinners, for dances, and of course the pool, our small tribute to the Mondello and the sea of ​​Sicily …
Panoramic Terrace
This is the story we know, the rest you can write to you, your experiences, the feelings you will experience in this house and in these places so loved by the British, by the Sicilians and not least by us Tuscans.
It is a house born out of love and always lived with love, is not it wonderful?
Swimming pool